In recent years, three concepts have taken center stage in transportation planning. These concepts— Complete Streets, Vision Zero, and the Safe System Approach—share the common goal of creating safer, more accessible streets for all road users, including pedestrians and bicyclists. This post will explore the connections between the three and how they can work together to foster safer and more inclusive streets in New Jersey. 
For the better part of the last century, transportation planning in the traditional sense has prioritized the movement of motor vehicles to accommodate a growing demand for road space. However, such immense expansion of roadway infrastructure inevitably came with tradeoffs and social costs. As roads and vehicles got faster, safety for certain roadway users decreased. Technological innovations and safety initiatives have had some success, including seatbelt laws and standardized traffic signs and signals; however, these successes were limited. As motor vehicles have become heavier, these safety gains have diminished considerably, and roadway fatalities are again on the rise, especially among cyclists and pedestrians.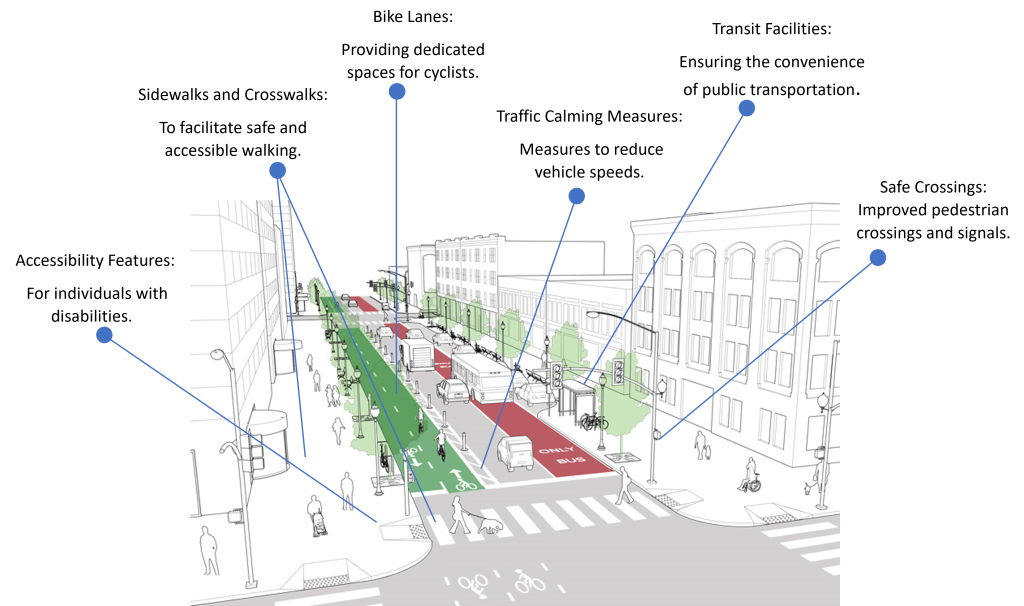 Complete Streets: Designing for Everyone
Complete Streets is a holistic approach to street design that aims to accommodate the diverse needs of all road users of all ages, abilities, and modes of transportation. At its core, Complete Streets prioritizes safety, convenience, and comfort for pedestrians, cyclists, motorists, and public transit users alike. Traditionally, governments have focused almost entirely on building roads to make driving more efficient. However, this has led to broader, faster roads and less friendly conditions for pedestrians, bicyclists, and anyone not in a motor vehicle. Complete Streets refocuses the transportation network to provide better conditions for all users. Key elements of Complete Streets are illustrated here.
By incorporating these elements, Complete Streets promotes mobility, access, and physical activity while prioritizing safety. But how do these principles relate to Vision Zero and the Safe System Approach? 
Vision Zero: A Zero-Tolerance Approach to Fatalities
Vision Zero is a global initiative that has made its way to New Jersey. As of today, several NJ municipalities and one county have officially adopted Vision Zero goals and Action Plans. Jersey City and Hoboken were early adopters (Jersey City in 2019 and Hoboken in 2021). Currently, Jersey City has completed 50 out of their 77 Actions. In 2021, Middlesex County announced its goal of reaching zero deaths on county roads and released New Jersey's first county-level action plan. Vision Zero challenges the traditional notion that traffic crashes are the inevitable result of human error and shifts the focus from blaming individual road users to charging governments with redesigning the transportation system to make it less deadly. Vision Zero asserts that it is entirely possible to eliminate all traffic fatalities and severe injuries. The key components of Vision Zero are shown below.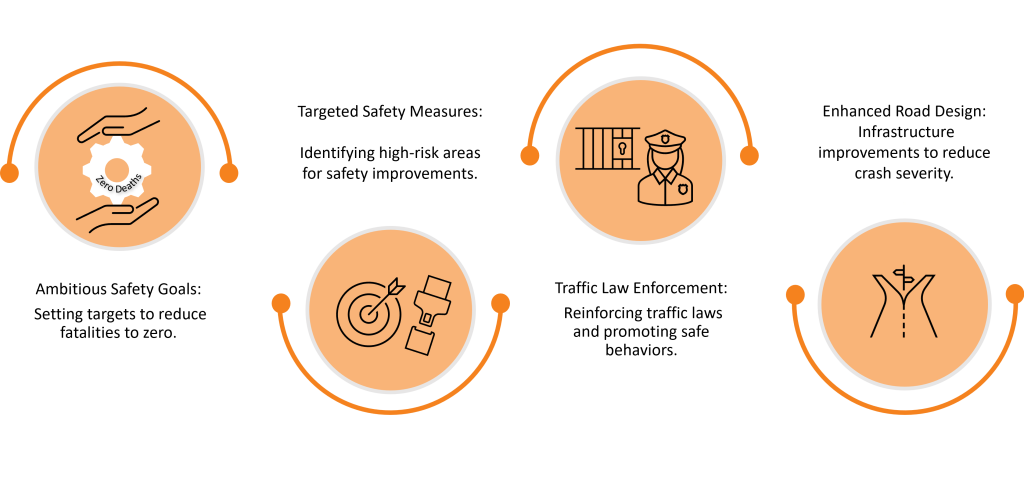 The relationship between Complete Streets and Vision Zero is clear. Complete Streets inherently prioritizes safety through its design elements, accommodating vulnerable road users and reducing potential conflict points. When designed with safety in mind, Complete Streets aligns with Vision Zero's mission of preventing fatalities and serious injuries.
The Safe System Approach: Designing for Humans Rather than

Vehicles
The Safe System Approach, originally developed in Sweden, acknowledges that human errors are inevitable and strives to create a forgiving transportation system. This approach focuses on designing a system in such a way that it discourages risky behavior by road users, ensuring that even when mistakes occur, the consequences are not fatal. It underscores the importance of an integrated approach to road safety, recognizing the vital roles played by safe roads, vehicles, speeds, and responsible road users.
In the United States, a key component of the Safe System Approach involves the application of Proven Safety Countermeasures. These countermeasures encompass a range of technologies and road design strategies that have been shown to mitigate or eliminate hazardous behaviors on our roads effectively. Currently, the Federal Highway Administration (FHWA) has identified 28 proven safety countermeasures that, when implemented correctly, significantly enhance road safety.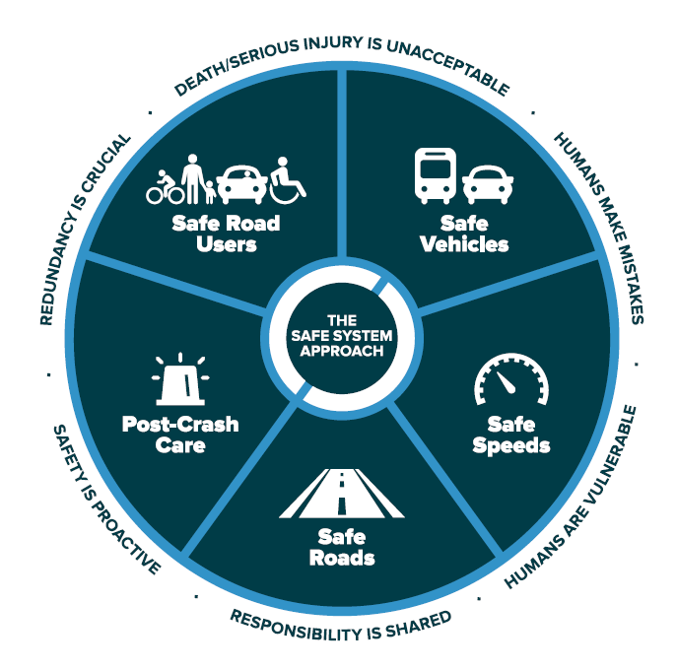 The Safe System Approach at the State and National Level
The New Jersey Department of Transportation (NJDOT) and the United States Department of Transportation (USDOT) have taken proactive steps to adopt the Safe System Approach. NJDOT is committed to the vision of achieving zero fatalities on all public roads by the year 2050. Similarly, the National Roadway Safety Strategy states that USDOT is dedicated to reducing severe and fatal injuries on the nation's roads and that "zero is the only acceptable number of deaths on our highways, roads, and streets." The Federal Highway Administration is also working with the vision "Zero is our goal; A safe system is how we get there." They actively collaborate with transportation communities at the state and community levels to fulfill these commitments to implement comprehensive safety measures. 
Complete Streets inherently promotes safe road infrastructure by incorporating design features that reduce the likelihood and severity of crashes. Vision Zero aims to eliminate fatalities and serious injuries, while the Safe System Approach provides the framework to achieve this goal through a combination of factors, including road design. 
The connection between Complete Streets, Vision Zero, and the Safe System Approach is undeniable. These approaches share a common commitment to creating safer and more accessible streets for everyone. Complete Streets designs prioritize safety through infrastructure improvements that accommodate all road users. This alignment with the goals of Vision Zero and the Safe System Approach underscores the importance of these concepts in achieving our goal: eliminating traffic fatalities and severe injuries on our roadways. 
As we move forward in our mission to reshape transportation planning and design, there is no better time to engage with these transformative ideas. Consider joining the movement if you're passionate about creating safer streets and championing these innovative approaches. Stay informed about events, webinars, and local initiatives that promote these concepts, and connect with organizations like New Jersey Bicycle and Pedestrian Resource Center dedicated to these causes. 
Find out more about NJ Bicycle and Pedestrian Resource Center at  njbikeped.org.  
The 2023 New Jersey Complete Streets Summit is currently at capacity. Join the waitlist for free tickets at CompleteStreets2023.com. 
Learn more about the Summit at njbikeped.org/2023-nj-complete-streets-summit.