NJ Complete Streets Policy Compilation
A Complete Streets policy formalizes a community's intent to plan, design, operate, and maintain streets that are safe for all users of all ages and abilities. These are policies that direct decision-making to consistently fund, plan for, design, construct, and reconstruct streets to accommodate all anticipated users, including pedestrians, bicyclists, public transportation users, motorists, and freight vehicles. Complete Streets policies are most often found in either a resolution or ordinance, but they can appear in executive orders, department or board policies, plans, design guidelines, and more. 
Adopting Complete Streets policies improve transportation options, access to opportunities, safety, physical health, environmental quality, and community and economic vitality. We need Complete Streets policies to ensure that all users of the roadway are routinely considered in transportation projects and provided with safe, convenient, affordable, and equitable transportation options. Without the adoption of a Complete Streets policy, there is no guarantee that current and future projects will be planned and designed for all users of the road.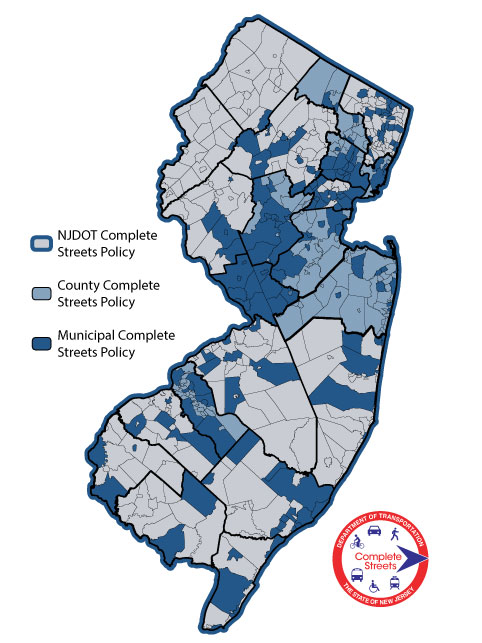 NJ Complete Streets Policy Compilation
In addition to the NJDOT policy, the jurisdictions listed below have enacted resolutions in support of Complete Streets. Last updated: March 25, 2022.
Municipality
County
Year
Ordinance or Resolution
Checklist
2019 Model Language
Older Version
Notes
Asbury Park, City of
Monmouth
2015
Resolution
Atlantic City, City of
Atlantic
2022
Resolution
Yes
2011
Bay Head, Borough of
Ocean
2016
Resolution
Bedminster, Township of
Somerset
2012
Resolution
Belleville, Township of
Essex
2022
Resolution
Yes
Bergenfield, Borough of
Bergen
2013
Resolution
Berkeley Heights, Township of
Union
2018
Resolution
Bernardsville, Borough of
Somerset
2020
Resolution
Yes
Bloomfield, Township of
Essex
2011
Resolution
Bloomingdale, Borough of
Passaic
2018
Ordinance
Bordentown Township of
Burlington
2019
Resolution
2014
Bordentown, City of
Burlington
2022
Resolution
Yes
2019
Bound Brook, Borough of
Somerset
2015
Resolution
Bradley Beach, Borough of
Monmouth
2022
Resolution
Yes
Yes
Bridgewater, Township of
Somerset
2017
Resolution
Brigantine, City of
Atlantic
2013
Resolution
Buena, Borough of
Atlantic
2014
Resolution
Burlington, City of
Burlington
2016
Resolution
Caldwell, Borough of
Essex
2014
Resolution
Califon, Borough of
Hunterdon
2012
Resolution
Camden, City of
Camden
2013
Resolution
Cape May, City of
Cape May
2012
Resolution
Chatham, Borough of
Morris
2012
Resolution
Cherry Hill, Township of
Camden
2014
Resolution
Chester, Township of
Morris
2013
Resolution
Collingswood, Borough of
Camden
2015
Resolution
Cranford, Township of
Union
2013
Resolution
Delran Township
Burlington
2012
Resolution
Denville, Township of
Morris
2010
Resolution
Dover, Town of
Morris
2012
Resolution
Downe, Township of
Cumberland
2013
Resolution
East Amwell, Township
Hunterdon
2015
Resolution
East Orange, City of
Essex
2013
Resolution
East Windsor, Township of
Mercer
2014
Resolution
Eatontown, Borough of
Monmouth
2019
Ordinance
Yes
2014
Egg Harbor City, City of
Atlantic
2012
Resolution
Elizabeth, City of
Union
2014
Resolution
Emerson, Borough of
Bergen
2010
Resolution
Ewing, Township of
Mercer
2018
Resolution
2014
Fair Haven, Borough of
Monmouth
2012
Resolution
Fair Lawn, Borough of
Bergen
2018
Resolution
Yes
Fanwood, Borough of
Union
2014
Resolution
Far Hills, Borough of
Somerset
2014
Resolution
Flemington, Borough of
Hunterdon
2013
Resolution
Fort Lee, Borough of
Bergen
2012
Resolution
Franklin, Township of
Hunterdon
2014
Resolution
Franklin, Township of
Somerset
2019
Resolution
Freehold, Borough of
Monmouth
2012
Resolution
Frenchtown, Borough of
Hunterdon
2011
Resolution
Galloway, Township of
Atlantic
2018
Resolution
Garfield, City of
Bergen
2014
Resolution
Gibbsboro, Borough of
Camden
2016
Resolution
Glassboro, Borough of
Gloucester
2012
Resolution
Glen Ridge, Borough of
Essex
2012
Resolution
Gloucester, Township of
Camden
2012
Resolution
Green Brook, Borough of
Somerset
2017
Resolution
Hackensack, City of
Bergen
2012
Resolution
Hackettstown, Town of
Warren
2012
Resolution
Haddon Heights, Borough of
Camden
2014
Resolution
Yes
Haddonfield, Borough of
Camden
2016
Resolution
Yes
Hamilton, Township of
Mercer
2015
Resolution
Hammonton, Town of
Atlantic
2013
Resolution
Harvey Cedars, Borough of
Ocean
2011
Resolution
Haworth, Borough of
Bergen
2019
Resolution
Highland Park, Borough of
Middlesex
2013
Resolution
Hightstown, Borough of
Mercer
2014
Resolution
Hillsborough, Township of
Somerset
2014
Resolution
Hoboken, City of
Hudson
2010
Resolution
Holmdel, Township of
Monmouth
2021
Resolution
Yes
Hopatcong, Borough of
Sussex
2012
Resolution
Hopewell, Borough of
Mercer
2012
Resolution
Hopewell, Township of
Mercer
2014
Resolution
Irvington, Township of
Essex
2012
Resolution
Jersey City, City of
Hudson
2011
Resolution
Lacey, Township of
Ocean
2012
Resolution
Lakewood, Township of
Ocean
2013
Resolution
Lambertville, City of
Hunterdon
2012
Resolution
Lawrence, Township of
Mercer
2021
Resolution
Yes
2019
2010
Leonia, Borough of
Bergen
2018
Resolution
Linden, City of
Union
2013
Resolution
Linwood, City of
Atlantic
2011
Resolution
Little Falls, Township of
Passaic
2016
Ordinance
Livingston, Township of
Essex
2014
Resolution
Long Branch, City of
Monmouth
2014
Ordinance
Policy Guide
Long Hill, Township of
Morris
2012
Resolution
Lower Alloways Creek, Township of
Salem
2019
Resolution
Madison, Borough of
Morris
2012
Resolution
Yes
Mantua, Township of
Gloucester
2012
Resolution
Manville, Borough of
Somerset
2014
Resolution
Maplewood, Township of
Essex
2012
Resolution
Margate, City of
Atlantic
2013
Resolution
Maywood, Borough of
Bergen
2011
Resolution
Medford, Township of
Burlington
2012
Resolution
Metuchen, Borough of
Middlesex
2013
Resolution
Middle, Township of
Cape May
2012
Resolution
Millburn, Township of
Essex
2014
Resolution
Millstone, Borough of
Somerset
2017
Resolution
Milltown, Borough of
Middlesex
2018
Resolution
Monroe, Township of
Gloucester
2015
Resolution
Montclair, Township of
Essex
2009
Resolution
Montgomery, Township of
Somerset
2012
Resolution
Montvale, Borough of
Bergen
2013
Resolution
Moorestown, Township of
Burlington
2015
Resolution
Morristown, Town of
Morris
2012
Resolution
Yes
Mount Arlington, Borough of
Morris
2012
Resolution
Mount Olive, Township of
Morris
2012
Resolution
Netcong, Borough of
Morris
2010
Resolution
New Brunswick, City of
Middlesex
2012
Resolution
New Milford, Borough of
Bergen
2014
Resolution
New Providence, Borough of
Union
2013
Resolution
Newark, City of
Essex
2012
Resolution
North Haledon, Borough of
Passaic
2017
Resolution
North Plainfield, Borough of
Somerset
2016
Resolution
North Wildwood, City of
Cape May
2012
Resolution
Northfield, City of
Atlantic
2015
Resolution
Northvale, Borough of
Bergen
2013
Resolution
Ocean City, City of
Cape May
2011
Resolution
Old Tappan, Borough of
Bergen
2012
Resolution
Orange Township, City of
Essex
2011
Resolution
Pemberton Township
Burlington
2016
Resolution
Plan
Pennington, Borough of
Mercer
2014
Resolution
Pennsville, Township of
Salem
2018
Resolution
Perth Amboy, City of
Middlesex
2013
Resolution
Plainfield, City of
Union
2022
Resolution
Plainsboro, Township of
Middlesex
2013
Resolution
Pleasantville, City of
Atlantic
2022
Ordinance
Yes
2011
Point Pleasant Beach, Borough of
Ocean
2013
Resolution
Point Pleasant, Borough of
Ocean
2011
Ordinance
Pompton Lakes, Borough of
Passaic
2019
Resolution
Princeton, Municipality of
Mercer
2019
Resolution
2012
Rahway, City of
Union
2015
Ordinance
Ramsey, Borough of
Bergen
2017
Resolution
Randolph, Township of
Morris
2012
Resolution
Raritan, Borough of
Somerset
2011
Resolution
Raritan, Township of
Hunterdon
2013
Resolution
Red Bank, Borough of
Monmouth
2018
Resolution
2010
Ridgewood, Village of
Bergen
2011
Resolution
River Edge, Borough of
Bergen
2012
Resolution
River Vale, Township of
Bergen
2015
Resolution
Robbinsville Township
Mercer
2014
Resolution
Rocky Hill, Borough of
Somerset
2019
Resolution
Yes
Roselle Park, Borough of
Union
2018
Resolution
Roselle, Borough of
Union
2013
Resolution
Rutherford, Borough of
Bergen
2011
Resolution
Scotch Plains, Township of
Union
2018
Resolution
Yes
Plan
Sea Bright, Borough of
Monmouth
2013
Resolution
Secaucus, Town of
Hudson
2013
Resolution
Somers Point, City of
Atlantic
2012
Resolution
Somerville, Borough of
Somerset
2015
Resolution
South Bound Brook, Borough of
Somerset
2018
Resolution
South Brunswick, Township of
Middlesex
2014
Resolution
South Orange, Township of
Essex
2012
Resolution
Summit, City of
Union
2014
Resolution
Tenafly, Borough of
Bergen
2014
Resolution
Toms River, Township of
Ocean
2012
Resolution
Trenton, City of
Mercer
2022
Ordinance
Yes
Yes
2012
Union City, City of
Hudson
2013
Resolution
Upper Township
Cape May
2019
Resolution
Yes
Ventnor, City of
Atlantic
2013
Resolution
Vineland, City of
Cumberland
2011
Resolution
Voorhees, Township of
Camden
2016
Resolution
Washington, Township of
Bergen
2022
Resolution
Yes
Yes
West Orange, Township of
Essex
2013
Resolution
West Windsor, Township of
Mercer
2010
Resolution
Westampton, Township of
Burlington
2012
Resolution
Westfield, Town of
Union
2013
Resolution
Westwood, Borough of
Bergen
2018
Resolution
Wildwood, City of
Cape May
2013
Resolution
Winslow, Township of
Camden
2016
Resolution
Woodbine, Borough of
Cape May
2012
Resolution
Woodbridge, Township of
Middlesex
2011
Resolution
Woodbury, City of
Gloucester
2012
Resolution
Woodstown, Borough of
Salem
2016
Resolution
Woolwich, Township of
Gloucester
2013
Resolution