NJDOT Local Bicycle/Pedestrian Planning
Assistance Program
The New Jersey Bicycle and Pedestrian Transportation Master Plan has a vision for New Jersey as a place where people choose to walk or bicycle with confidence and a sense of security. To make this happen, New Jersey needs infrastructure improvements that address the safety, mobility, and access needs to non-motorized transportation modes.
NJDOT's Local Bicycle/Pedestrian Planning Assistance Program (LBPPAP) connects consultants with expertise in local bicycle and pedestrian planning to counties and municipalities at no cost. Counties and municipalities simply need to submit an application explaining the desire to grow non-motorized transportation networks. Municipalities or counties that are interested should work on an application (see below) and submit to william.riviere@dot.nj.gov.
With each municipality and county, we can make New Jersey more bike and pedestrian friendly!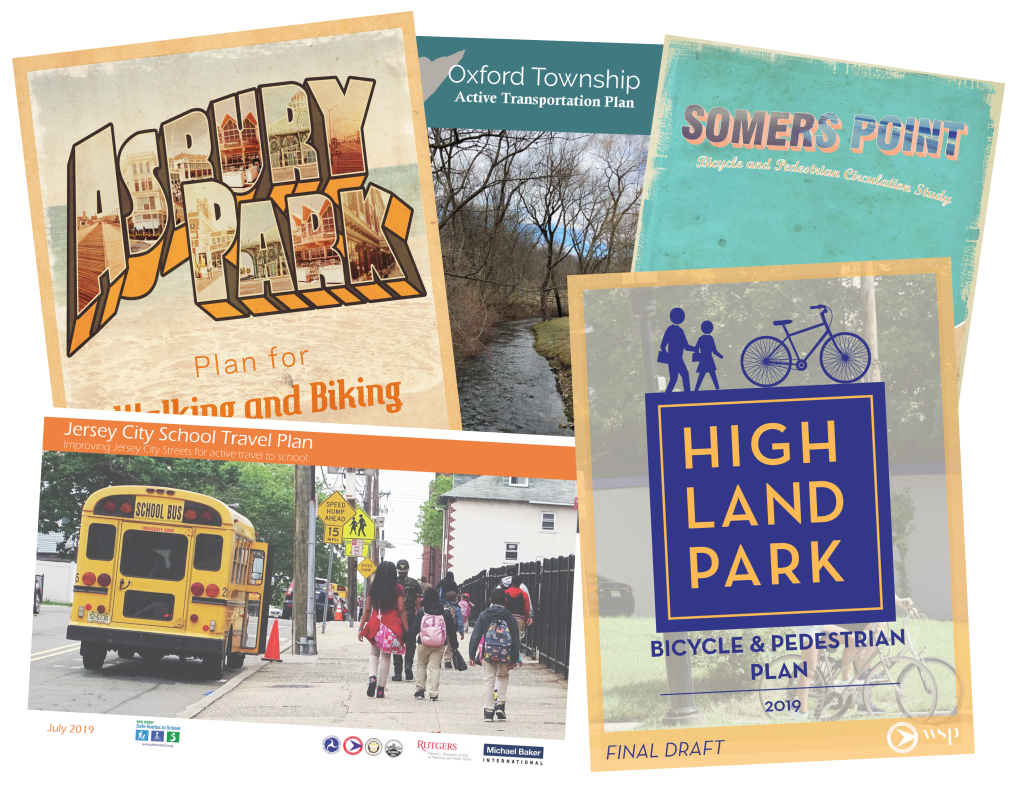 Application
Counties and municipalities that wish to be considered for this program must submit an application
package. Applications will be accepted at any time throughout the year. The application should
demonstrate a strong interest in and/or need to provide improved or enhanced accommodations for
pedestrian or bicycle travel in the community and evidence of a sincere commitment to implement the
recommendations that evolve from the planning effort. The application package for the LBPPAP must
include:
A cover letter on the letterhead of the applicant, county or municipality, expressing in

terest in




the program, signed by an appropriate representative of the county or municipality.

A description of the proposed planning effort to be undertaken, prioritizing the efforts. This




should include justification in terms of the needs, problems, popul

ations served or opportunities




being addressed.

Additional information, if available, including sketches, maps which define the proposed study




area, etc.,

Supporting data, statistics and mapping demonstrating significant safety issues in the county or




mun

icipality that may be addressed in the study.

A description of how the municipality intends to participate in the study. This can include




financial participation, though financial participation is not required.

A resolution of support from the governing b

ody (if available at the time of the submittal) or an




indication that a resolution of support will be forthcoming. The resolution must include a




commitment to make a good faith effort to implement the recommendations (actual or implied)




of the planning st

udy. Note: A task order with the Department's consultant, commissioning the




work, will not be issued without receipt of a resolution of support from the local governing




body.

The identity of the contact person and/or staff person who will participate in th

e study on behalf




of the county or municipality.

The identity of any local citizen groups or task forces or other entities with an interest in bicycling or walking who support the planning effort and may be available to participate in the study.
An agreeme

nt to follow up with NJDOT one year after study completion in order to document

the status of improvements based on study recommendations.
Evaluation Process/Selection Criteria
Since applications are accepted at any time, the Department does not
, strictly speaking, review and
evaluate applications on a competitive basis. The program is competitive only in that there may be
more applicants than resources available to accommodate them. In this case, low
–
income communities
or those with severe bicy
cle and pedestrian safety issues will be considered first. We cannot guarantee
that technical assistance will be available at any particular time. The evaluation process is intended to
determine whether an application is to be accepted (or not) into the pr
ogram. Applications will be
evaluated in terms of the following selection criteria:
Clarity of the presentation of the planning issues to be addressed

Inclusion of supporting data, statistics and mapping to back up narrative provided

Evidence of commitment

of local staff/resources (mapping, providing data, setting up meetings,




providing meeting space, etc.)

Evidence that a significant pedestrian or bicycle safety issue is to be addressed

Evidence that the planning effort includes consideration of improving

non

–

motorized access to




transit stops and stations

Evidence that the planning effort is to be directed to the needs of special populations such as




senior citizens, transportation disadvantaged, school children, etc.

Evidence that the planning effort is to

be directed towards the enhancement, vitality or




economic viability of downtown or central business district (CBD) areas through the




improvement of bicycle and pedestrian access and safety

Documentation that the applicant municipality or county has an exis

ting Complete Streets Policy




or a commitment of their intention to adopt one

Documentation of local support (A resolution of support from the governing body is required.




Other documentation could include letters of support from public safety officials, the

school




board, etc.)

Documentation of support/involvement of the county (if a municipal application)

Documentation of support by the Transportation Management Association (TMA) and/or the




Metropolitan Planning Organization (MPO)

Documentation that other ac

tivities or projects have been undertaken to support bicycling or




walking in the county or municipality, including Safe Routes to School programs




Documentation that the community is an Urban Aid Community as determined by the New




Jersey Department of Commu

nity Affairs
Other Considerations
Planning efforts to be undertaken through this program are to be locally driven. It is essential that applicants understand that this assistance is to be provided under a partnership arrangement, and that applicants must commit staff and/or financial resources to these efforts.
All studies undertaken must have a strong public outreach aspect, including continuing involvement by both the official representatives of the county or municipality as well as participation by local citizens.
It is anticipated that study recommendations will be consistent with state of the practice guidelines for
bicycle and pedestrian accommodations.
Communities participating in the program will be contacted periodically after the completion of the planning effort to provide information on progress made toward implementing study recommendations resulting outcomes. Specifically, we will be asking whether there has been an increase in safety due to the changes made, whether a Complete Streets policy has been adopted, as well as whether or not the community has seen an increase in bicyclists and pedestrians. Also, we will assist in determining whether the community is eligible for inclusion in the Bike Friendly Communities Program with the League of American Bicyclists. An important part of the process will be the identification of the contact person within the local government who will sign the Local Technical Assistance Scope Approval form. This person will not only agree to the goals and objectives of the study, but will also agree to serve as our liaison for the aforementioned progress reports.
Eligible Planning Activities
Examples of planning activities that may be eligible for this technical assistance program include but are
not l
imited to:
Evaluation of bicycle and/or pedestrian safety issues and the development of potential solutions

Comprehensive bicycle and/or pedestrian plans or circulation elements
Bicycle and/or pedestrian circulation studies focusing on key corridors or act

ivity centers in the

county or municipality, e.g. downtowns, key attractors (parks and other community facilities) shopping centers, etc.
Planning location or feasibility assessments for shared use path projects including rail

–

trails and

rail with trail
Co

mplete Streets policy development and implementation plan assistance

Sidewalk inventories
Walkability audits
Inventories or audits of bicycle compatible roadways and designated bicycle facilities
Bicycle suitability mapping
Deficiency analyses, in terms of

bicycle and/or pedestrian travel along selected routes to

schools, transit facilities, downtown areas, etc., along with recommendations for mitigating those deficiencies
Residential neighborhood traffic calming
Safe Routes to School travel plans