You might wonder where you can ride your electric bicycle or e-bike in New Jersey. Is it legal to ride your e-bike in traditional bike lanes? Is it okay to take your e-bike on a trail dedicated to non-motorized vehicles? Are you confused about the laws? Many people are. In this article, we will try to clear up some of the confusion about where you can ride your e-bike (class 1 and class 2).
Why are e-bikes Important?
E-bikes are increasingly popular as a mode of transportation as they help riders reach their destination faster and, often, more conveniently than a traditional bicycle. These bikes are especially appealing to users with physical limitations due to age, fitness levels, injuries, or disabilities. They are also popular among road users who cannot get a driver's license or do not want to drive a motor vehicle. E-bike users can save on gas, parking, car payments, repairs, fees, and rideshare costs. Furthermore, e-bikes help with carbon reduction goals and first- and last-mile connectivity to bus or train stations.
E-bike Classifications
Title 39, Motor Vehicles and Traffic Regulation of New Jersey, defines a low-speed electric bicycle as, "a two or three-wheeled vehicle with fully operable pedals and an electric motor of less than 750 watts, that meets the requirements of one of the following classifications:
class 1 low-speed electric bicycle, which means a low-speed electric bicycle equipped with a motor that provides assistance only when the rider is pedaling, and that ceases to provide assistance when the bicycle reaches the speed of 20 miles per hour; or
class 2 low-speed electric bicycle, which means a low-speed electric bicycle equipped with a motor that may be used exclusively to propel the bicycle, and that is not capable of providing assistance when the bicycle reaches the speed of 20 miles per hour."
A label with the classification number, top speed, and motor wattage must be affixed to an e-bike in a prominent place. Tampering with or modifying an e-bike's top assisted speed is not permitted without updating the required label. For more information on these laws, visit the Micromobility page on the njbikeped.org website.
Class-3 Motorized Bike (Moped)
Other than class 1 and class 2 e-bikes, there is also a category for class-3 e-bikes, which are characterized as motorized bicycles. Title 39 states that in order to operate a class-3 motorized bicycle, you need to be over 15 years of age, have a license, and wear a helmet no matter how old you are. According to the Moped Manual produced by Motor Vehicle Services of NJDOT (now the New Jersey Motor Vehicle Commission), a motorized bicycle or moped is permitted on bike lanes and bike routes.
Low-Speed E-bikes
The rules for class 1 and class 2 low-speed e-bikes are similar to the laws applied to traditional bicycles. There is no license or registration required for e-bikes at the state level, although some towns may offer registration. As per NJSA 39:4-14.16, you can ride your e-bike on bike lanes, streets, highways, and roadways in New Jersey, except for those where all bicycle traffic is restricted by regulation. You may also park your e-bike on the sidewalk as long as it does not obstruct pedestrian movement. Every person riding a bicycle on the roadway has all the rights and responsibilities of a motor vehicle driver (NJSA 39:4-14.1).
Trail Use
Regarding e-bikes operating on multi-use trails, there are different rules depending on the type of trail. In the case of a natural surface (wood chips or bare earth), e-bikes are not permitted on trails designated for non-motorized vehicles unless the owner of the facility, such as the local or county government, specifically allows e-bikes. On the other hand, the rules for paved bikeways and shared-use paths are the opposite; e-bikes are, by default, permitted on paved paths where traditional bikes are allowed, but local or county governments have the authority to restrict e-bikes.
On state-managed facilities, the New Jersey Department of Environmental Protection allows Class 1 and 2 e-bikes on improved multi-use trails with hard surfaces such as crushed stone or asphalt that are suitable for both e-bikes and traditional bicycles. E-bikes are permitted in all national parks on trails open to pedal bicycles, with minor exceptions. Since the New Jersey law specifies that local governments can restrict the use of class 1 and class 2 e-bikes on trails, even if traditional pedal bikes are allowed, be sure to check local rules and regulations before taking your e-bike on a trail or a boardwalk. Visit the park or trail website to see where e-bikes are allowed.
Helmet Use
Helmets are encouraged for all users of all ages, especially on e-bikes, which are capable of higher speeds than traditional bicycles. For the safety of children, helmets are mandatory for anyone under 17 years of age riding bicycle or using other wheeled devices like skateboards and scooters. The same rule applies to e-bike users, including passengers on bikes with more than one seat or being towed. Helmets should be properly fitted and fastened. They should meet the standards of the American National Standards Institute or the Snell Memorial Foundation's Standard for Protective Headgear for Use in Bicycling (NJ Rev Stat § 39:4-10.1).
Transit Use
NJ Transit encourages the use of low-speed micromobility devices such as bicycles, e-bikes, e-scooters, segways, and hoverboards, by allowing you to bring them aboard NJ Transit vehicles, including rail, light rail, and buses. However, all non-collapsible bikes are restricted during peak hours. There is no requirement for an additional permit to carry your low-speed e-bike on NJ Transit, but charging electric vehicles on-board is prohibited. For more details, check the NJ Transit website. However, please note that electric bikes, scooters, or skateboards are not permitted on PATH, so plan your trip accordingly if you use the PATH trains between New Jersey and New York. Traditional bicycles are permitted on PATCO trains between New Jersey and Pennsylvania and there is no mention of prohibiting e-bikes or e-scooters.
Local Government E-bike Restrictions
Local municipal and county governments can restrict where class 1 and class 2 e-bikes are allowed. The following are a few regulations related to e-bikes in select municipalities and trails in New Jersey.
1. Cape May:
According to Code 158-9: Prohibited acts at boardwalk, promenade, beaches, and environs, no person is allowed to operate or park their e-bike or e-scooter on the boardwalk, promenade, and environs at any time. Human-operated bicycles are permitted during certain hours:
[1] From May 16 and extending through the summer to September 14 ("in-season"), riding or parking a bicycle on the boardwalk, promenade and environs is permitted only between the morning hours of 4:00 a.m. to 10:00 a.m.
[2] Beginning September 15 and extending through the winter months until May 15 ("the off-season"), the above limitation on bicycles will not be in effect.
2. Hoboken:
As per Hoboken Municipal Code 190-62: Use of multi-use path, low-speed electric vehicles are allowed on paths dedicated for multi-use. Multi-use paths are for the exclusive use of pedestrians, human-powered vehicles, and low-speed electric vehicles. A user operating a human-powered or low-speed electric vehicle upon a multi-use path shall yield the right-of-way to any pedestrian.
3. Lawrence Hopewell Trail
The Lawrence Hopewell Trail (LHT) is a multi-use trail, offering more than 19 miles of pathway for bicyclists, walkers, hikers, and skaters. It runs through Lawrence and Hopewell Townships in Mercer County, New Jersey. The LHT allows low-speed electric bikes and electric wheelchairs but prohibits any motorized vehicles.
4. Middlesex Greenway
The Middlesex Greenway is a 3.5-mile rail trail through Metuchen, Edison, and Woodbridge townships. The greenway allows bikes; however, it prohibits electric vehicles, including e-bikes and e-scooters.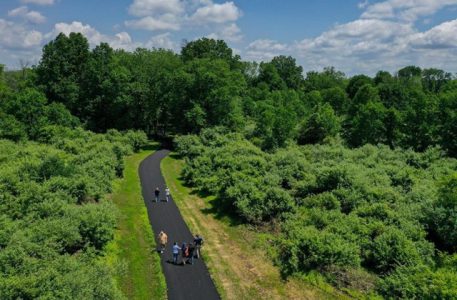 5. Sea Isle City
According to the use of traditional bicycles, low-speed electric bikes, low-speed electric scooters, motorized scooters, motorized skateboards, and similar means of conveyance upon the promenade and its approaches within the City from May 15 to September 15 of each year are prohibited except during the hours of 5:00 a.m. to 3:00 p.m. on weekdays, 5:00 a.m. to 12:00 noon on Saturdays and Sundays.
Furthermore, City Council passed an ordinance in July 2022 imposing a new 10 mph speed limit on the entire length of the 1.5-mile promenade to slow down e-bikes, scooters, and motorized skateboards, which can create a danger for pedestrians.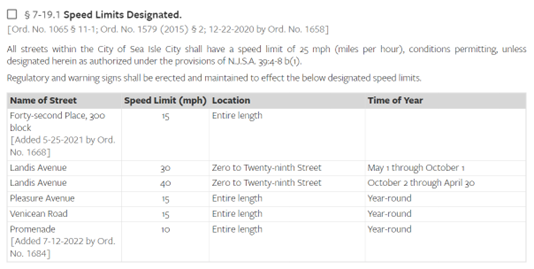 6. Union City
Union City revised its ordinances in 2021 to encompass low-speed electric bikes and scooters. The following are the rules set forth by the city:
Every person riding these vehicles upon a roadway shall be granted all the rights and shall be subject to all the duties applicable to the driver of a vehicle by chapter 4 of Title 39 of the New Jersey Revised Statutes.
A helmet is mandatory.
No person is permitted to ride a low-speed electric bicycle on a sidewalk except for children under 13. However, no person, even those under the age of 13, shall ride a low-speed electric bicycle on a sidewalk in a business district from 9: 00 a.m. to 9: 00 p.m. within the City of Union City or where signs prohibit the same.
Lights, reflectors, and a horn/bell are required for E-bikes, E-scooters, and Motor scooters.
E-bikes, E-scooters, and Motor scooters operators must obey all traffic laws.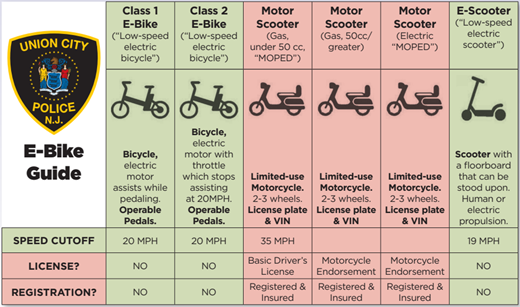 Summary
E-bike users in New Jersey have the freedom to ride on bike lanes, shared use paths and most roadways, while also being able to park them on the sidewalk as long as it does not obstruct pedestrian movement. However, it is important to note that local rules and regulations may restrict where class 1 and class 2 e-bikes are allowed, such as on certain trails or boardwalks.
Keeping up with the laws of each municipality or county as you ride your e-bike from one region to another can be confusing and challenging. Checking each local government's website before riding your e-bike is difficult when riding long-distance trails, especially when you are unsure which municipalities are part of the corridor. With e-bike sales soaring and environmental concerns over fossil fuel use and carbon emissions growing, it's important to reach out and work together with your local and county governments on any e-bike and micromobility regulations so laws are consistent and beneficial for all.
For more information on e-bikes, such as incentives programs, policies, how to ride an e-bike, etc., visit the ClimateAction Centre website.